nysmusic.com – June 28, 2015
Hearing Aide: Mark Doyle's Guitar Noir, "One November Night - Live In Concert"

Mark Doyle has released a two cd live performance by his ten-piece Guitar Noir ensemble project. The material is based on his trilogy of critically acclaimed solo albums, 1999's Guitar Noir, 2001's Out Of The Past and the follow-up to Guitar Noir, 2011's In Dreams: Guitar Noir ll. In Dreams is presented in its entirety on disc one and highlights of the other two cds are performed on disc two along with a few surprise gems. One November Night was performed at Onondaga Community College's intimate new Recital Hall on November 22nd, 2014 with Jason "Jocko" Randall at the F.O.H. helm and Dan Shaw handling recording duties. Doyle produced and mixed at Near Miss Studios, Jocko mastered the final product at More Sound. The pairing of Doyle and Randall have garnered multiple SAMMY Awards for Mark Doyle and The Maniacs, Doyle's blues/rock band.
The carefully selected ensemble draws from a list of long-time collaborators, Terry Quill on guitar (former Maniacs), Edgar Pagan-bass, Bill DiCosimo-keyboards, Joshua Dekaney-drums/Roland Pads, all of (Grupo Pagan, Mary Fahl) and a stunning string quintet comprised of Ally Brown-1st violin/section leader, Shelby Dems-1st violin, Leila Dean-2nd violin, Claire Wilcox-viola and Kate LaVerne-cello. The quintet allows Doyle to flex his multi-faceted skill base as a producer/arranger, who states, "I've always loved doing string arrangements for recordings, and the idea of working with live strings has long been a dream of mine. The Guitar Noir concept particularly lends itself to this idea, so seeing and hearing it all come together in concert has been very rewarding."
Doyle's extensive history as a guitarist, pianist, composer, producer and arranger would take another several paragraphs to cover properly. I suggest spending some time on his website, there are some excellent stories on his discography page and his bio page spells out his history in depth. You can also go back on the NYS Music website and read other pieces I've written for Doyle and his works with Mary Fahl.
It was as if the Recital Hall was created for a concert such as this, amazing thought and skill has created an architecturally beautiful venue that is near perfect for audiences and musicians alike. It's plush, with comfortable seating, excellent sight-lines and the sound, the sound! I was fortunate enough to attend the concert when 'One November Night' was recorded, this will be a chance to give it the ultimate respect it deserves. Many fans may think it odd to sit in a theater listening to Mark Doyle perform, but Guitar Noir is a totally different animal, instrumental, atmospheric and lush. This venue is perfect for Doyle's voluminous abilities to be exercised and the audience to lean back and follow along with the nuances.
Doyle's love of film noir/sci-fi/horror movies influenced his thematic choices throughout the recordings highlighted here, along with the Sixties theme from Out Of The Past. This is an artist who holds the fullest respect for where he comes from, where he has been, and who influenced his path on the way there. Anyone who has attended one of his shows knows the subtlety in how he expresses them and his affection for them. I highly suggest a good pair of headphones to catch each one.
'The Perry Mason Theme' opens the show with all hands on deck, Doyle's guitar playing the familiar lines that everyone of a certain age knows. It's brighter, then it breaks into a samba-jam with Edgar Pagan and his unmistakeable smile riding a sweet groove with counterpoint provided by his rhythm section mate, Josh Dekaney. The strings swell in and out as Bill DiCosimo's keyboard flourishes fill the air, Terry Quill's accompanying guitar licks double, then echo and harmonize with Doyle, their interplay is and always has been magical. As previously noted, the rest of the first set is dedicated to In Dreams: Guitar Noir II in its entirety. 'Mr. Sandman' is dreamy and slowed down, Doyle switches from harmonics to slide to pick, emphasizing tonal changes directly into another standard 'All I Have To Do Is Dream'. While recognizable, these arrangements take on a new depth behind Doyle's signature and accompaniments. This version is upbeat, sweet and hopeful, perhaps another chapter in his tome, written for the love of his life. Ray Davies' 'I Go To Sleep' – familiar to many from the Chrissie Hynde reading – comes next in an atmospheric inversion, enough to call to memory the words; "I go to sleep, sleep. And imagine that you're there with me. I go to sleep, sleep. And imagine that you're there with me.", spoken with a volume pedal and a little finger on the volume control knob on Doyle's signature Stratocaster. The guitar solo at the end is worth the admission price alone. 'Reve Noir (Dark Dream)', the first of Doyle's compositions, brings the theremin in with a haunting effect that is quickly softened by a 'Dream A Little Dream Of Me' homage lick. The strings are consistently perfect, performed with touch and emotion, never commanding, yet very present.
Henry Mancini's 'Dreamsville', from The Music Of Peter Gunn precedes 'Nightmare', Artie Shaw's "theme song", placing dimension on this continuing dream sequence. Doyle's guitar rises right through the middle of the mix, just on top, right between the ears, precisely where it belongs. 'Dream Baby', made famous by Roy Orbison, gets a slower pacing, without the country feel. Not "updated", but a different take, a saunter of sorts, with Doyle's slide work and picking dictating the step. The second Doyle composition, 'Dream Tiger', gets a bit electronic with sampling running underneath, triggers being pulled and layers upon layers of melody allowing Dekaney to hit it hard. His percussion skills and sound knowledge are flat-out amazing. The band is running at top form, 'Darn That Dream' is a late thirties jazz shuffle by Jimmy Van Heusen that reaches deep into Doyle's cache of tones, throw in the strings and it could be misconstrued as his own composition. 'Still I Dream Of It' (Brian Wilson) and 'In Dreams' (Roy Orbison) finish disc one. The expression in Doyle's guitar-voice rides along the melody lines, casually reshaping them, changing tones to define them. One last reference to history and the band is off to break, listening to a rising ovation from the sold-out audience.
The second set, or disc two, opens with 'Tomorrow Never Knows', the Lennon/McCartney gem from Revolver that brought the Indian feel to the experimentally minded band. Guitar Noir just rolls it, the Indian undertone as a drone, Doyle voicing the vocals through his fingers, pick and whammy bar. The Jazz Crusaders' 'Young Rabbits' gives each member of the ensemble some individual space while staying tight to the groove of the original. The band doesn't mind a little jazzy, funk stuff. The Boz Scaggs feel of 'Invitation' is such a classic sound. The theremin pushes through in parts, Doyle just soars, and the band is so far in the pocket that you can't see them. 'Guitar Noir' expresses the virtuosity Doyle haunts this song with, the hollow-body whammy gives some surfer vibe, but the synth and pad parts are updated and push just slightly. The theremin entices like an old horror movie, just enough to keep you guessing until he tosses another emotive at you. 'Out Of The Past' is a monster. The Indian influences, both string and percussive, paired with the precision of the guitar work and tonalities, is just majestic. These two songs are Doyle's personal contributions to disc two. It's understandable why they're the title tracks from the second disc's featured albums.
The Doors' 'The Crystal Ship' is a time establishing riff that is just as strong, if not more strongly expressed through six strings. It provides the vehicle to go back, while still moving forward through Doyle's interpretation. The Beach Boys' 'Warmth Of The Sun' is read in similar terms, lush with strings and keys, the lead gently overhead. Both are so heartfelt, they're nicely paired in the set and the 'Surfer Girl/I Only Have Eyes For You/In My Room' interlude is signature material for Doyle, perfectly placed and segued, setting the stage for a new song to the ensemble. 'Jive Samba' by Cannonball Adderly takes the slow jazz feel and uses guitar for the horns while the string ensemble echoes back to them, the bottom is unstoppable even when Doyle lights it up strong. Then, DiCosimo, Quill, Pagan and Dekaney each get several measures of solo space and their introduction to the crowd. Sometimes it's hard to pay attention to each individual while the band plays, wanting to absorb the whole presentation, but the crowd surely showed their appreciation for each. The set ends with a Stones/Beatles mash-up, consisting of 'Paint It Black/Eleanor Rigby'. The Caribbean rhythm intro of 'Paint It Black' morphs into a rocky, upbeat chorus, then transitions into a searing 'Eleanor Rigby' with a Chick Corea like break. DiCosimo rips another organ solo while Quill and Doyle pounce on the top, firing to a dramatic end with the audience standing and yelling for more. The encore is a seasonal piece considering the recording date. 'Have Yourself A Merry Little Christmas' and 'The Christmas Song' had the audience smiling wide in understanding the moment they were just a part of.
While it isn't considered professional or appropriate to personalize reviews, in this case and several others recently, these people are my friends. I'm very fortunate to have them. I write what I write because I want to, not for money, but for the love of music, especially when it's made by people I respect and care deeply for. Check out more of Mark Doyle's music on his website, youtube and his band, Mark Doyle and The Maniacs' facebook page and website. There is a rich history there that continues to grow, it should be noted and explored, please do.
Key Tracks: Out Of The Past, Dream Tiger, Guitar Noir
- Greg Jackson


Vintage Guitar – January, 2016
Mark Doyle's Guitar Noir, "One November Night - Live In Concert"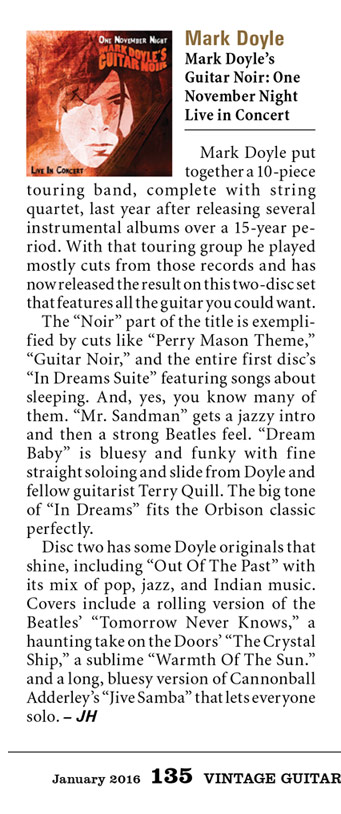 - John Heidt